Rock
Me
!
Summer
of
Love
by
Anna
Sui
Bergamot, Aquatic Hyssop, Gernanium
Middle
Fressia, Water Lily, White Peach
Bottom
Musky Rose, Sandalwood, Ambergis
ANNA SUI
in particular continue to rock the infinite imagination and love for the introduction of the Rock Me - Summer of Love Rock Sweetheart Eau De Toilette, a beautiful soul fragrance. Taste the taste of love, the feeling like a little girl , enjoying love of melody.Anna Sui Rock Me Summer of Love perfume produce in 2010 Valentine's Day .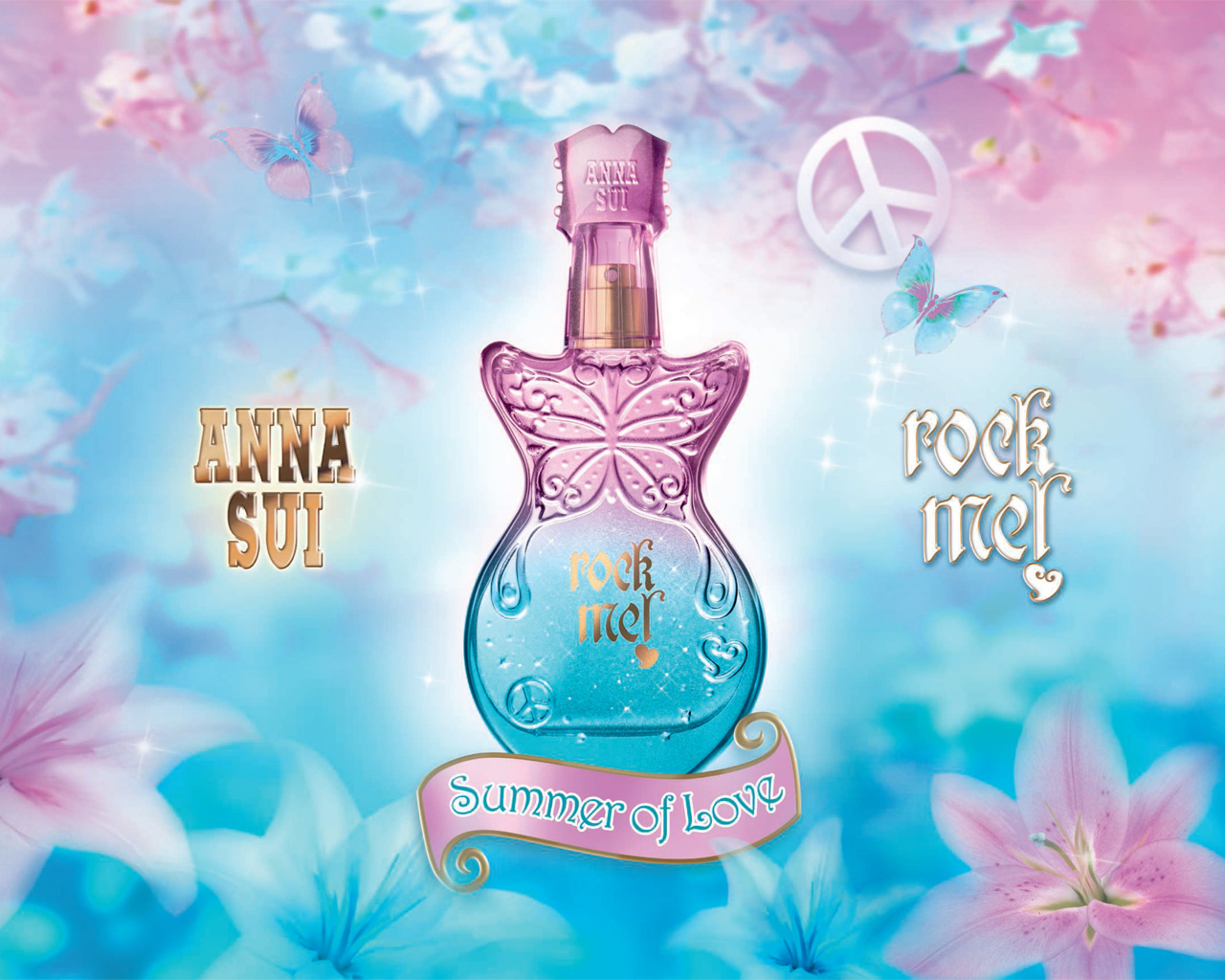 Aimed toward the spirit of all free young women, Anna Sui Rock Me! gets a fantasy makeover just in time for summer! Introducing Anna Sui's Rock Me! Summer of Love perfume for women. This lighter composition is perfect for refreshing summer days in casual wear. Inspired by the 1960's timeline in music, this fragrance rocks the original Anna Sui Rock Me! scent. Rock Me! Summer of Love is due to arrive this summer 2010 with a whimsical blend of aquatic hyssop and spring florals. Ideal for girls with at least one love song in her heart, this new elixir features a beautiful butterfly which represents the symbol of freedom. Gold butterfly wings accentuate the framed outlines. The gorgeous outer carton features exotic flowers and a symbol of peace. Be sweet, be sexy, be free!
Rock out to Rock Me! Summer of Love! Tops notes feature nauces ranging from pink to turquoise blue. Bergamot, aquatic hyssop and geranium. A fresh heart of blooms compliment freesia, water lily and white peach! A sweet base includes musky rose, sandalwood and ambergris. Advertising campaign Rock Me! Summer of Love features Agyness Deyn. Agyness Deyn has also debuted as Anna Sui's fragrant face for Rock Me! Rock Me! Summer of Love! will be available as 30, 50 and 75ml Eau De Toilettes, along with perfumed body lotion and shower gel products.
International designer Anna Sui's involvement in fashion began at an early age, with a devotion to dressing her dolls and her neighbor's toy soldiers for her own personal version of the Academy Awards. Sui eventually extended her fashion interest to include designing her own clothes and clipping fashion magazine pages to serve as inspirations. To this very day, she continues to refer to these ""genius files"".After graduating from high school in Detroit, Michigan, Sui moved to New York City to attend Parsons School of Design. While at Parsons, Sui found a collaborator and close friend in Steven Meisel, today one of the world's top fashion photographers. Her early days as a stylist for Meisel's shoots included editorial for the Italian fashion magazine LEI.After leaving Parsons, Sui worked at a variety of junior sportswear companies.
In 1980, Sui presented six original pieces at the Boutique Show and immediately received an order from Macy's, who featured one of her designs in a New York Times advertisement. That same year, Anna Sui launched her own business that operated out of her apartment throughout the 1980's.In 1991, Anna Sui premiered her first runway show, featuring her signature ""head-to-toe"" look and prompting the New York Times to proclaim it a ""pastiche of hip and haute styles."" In that same year, Sui moved her business and showroom to its current location in the Garment District.In 1992, Sui opened her own boutique at 113 Greene Street in the SoHo district of New York. The store reflects Sui's distinct taste: pairing flea market furniture and whimsical Dolly Head mannequins in a room with purple walls and red floors.In 1993, Sui won the prestegious CFDA Perry Ellis Award for New Fashion Talent.The first of three Anna Sui freestanding boutiques in Asia opened in May 1997 in Tokyo. The second opened in Osaka in the Fall of that same year. Another Osaka venue opened in 2000. The stores mark the continued worldwide expansion of the Anna Sui brand and lifestyle. Isetan Company Limited is the main licensee for the Japanese distribution of the women's collection and Mammina, a subsidiary of Isetan, is the distributor to department and specialty stores there.
In 1997, Anna Sui Shoes premiered on her runway for Fall 1997. Manufactured by Ballin in Venice, Italy, the shoe collection is comprised of both day and evening styles, and include velvet, silk, patent leather, snake and lizard skin, shearling and suede.Anna Sui opened her Los Angeles boutique in 1999 in Sunset Plaza, in West Hollywood.In 1999, Sui launched her signature fragrance and cosmetic line. In October 1997, Anna Sui signed a fragrance licensing deal with Wella AG of Germany to develop a signature fragrance. In a three-sided arrangement, Wella shares the Anna Sui beauty business with Japanese cosmetics maker Albion, which holds the Anna Sui color cosmetics and skin care license. Under the agreement , Wella will produce and market Anna Sui fragrances while Albion introduces the Anna Sui color collection for Japan. Wella will sell the fragrances to Albion, which will distribute them inside Japan, while Albion will sell the color cosmetics to Wella for distribution outside of Japan.For Fall 2000, Sui Dreams, the second Anna Sui fragrance launched worldwide.Called a designer that ""never panders"" by The New York Times, Anna Sui continues to design and manufacture her signature Anna Sui Collection in her New York City headquarters. Her runway shows continue to set trends and inspire designers everywhere. Sui's signature wit and original designs draw legions of devotees to her pieces, including clients Patricia Arquette, Christina Ricci, Cher, Naomi Campbell, Sofia Coppola, Courtney Love of Hole and James Iha of Smashing Pumpkins.